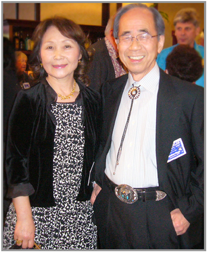 Masharu "Doc" Hiraga
Doc started modern square dancing and calling in 1959 in a university folk dance club when Ricky Holden came to Japan to teach. In 1966 thru 1972 Doc was calling at the Sendai Square Dance Club with Mac Ojima, Hiroshi Yaoko and others.
In 1992 he started calling again in the Thunder Squares in Gunma prefecture. Doc founded five clubs in the same area in the past ten years. He trained the callers, and they have already taken over his place at three clubs.
Doc has been a Callerlab Member since 2005, and attended 6 Callerlab conventions. He is involved in the International Committee and Promotion Task Team of the JSDA.
Doc worked as an English-Japanese interpreter at the GSI's Caller School held in Japan in November 2009 hosted by Mac Ojima and co-sponsored by the JSDA. Doc is now calling at three clubs and many groups in the dance programs ranging from the Basic 40 (easy dance for the elderly) through C2.
Doc is also one of the GSI Japan representatives.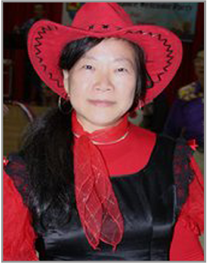 Jennie Wang
Jennie has been square dancing since 1983. She was the 1st and 5th Chairwoman of the Square Dance Association of the Republic of China.
She attended the Taipei Caller School in 1992, with caller coach Doc Casey. Since then, she and Mary Wu formed the "Doc Squares" square dance club.
Jennie also attended the Northeast Caller's School in Manchester, USA in 2009. Now she is teaching square dancing to beginners and handicapped dancers. Jennie is also a round dance cuer.
Jennie says "I love square dancing, round dancing & clogging—these hold a very important position in my life. The activities are fun and keep me young. My black-and-white life turned colorful and was thoroughly enriched when I started dancing. I have many close friends from all over the world—we even we have a sisters club in Japan: Kamakura Beach & Stars."
"I was so honored and lucky to be chosen as the leader of GSI Taiwan. I have a warm feeling for this square dancing family, and we will uphold the responsibility to follow up the old steps and tradition, pursue developing a new and good future for the square dance world and honor the directive of One World, One Dance".
Let's join hands (old hands & beginners, too), heart-to-heart (love and toleration), and work together to overcome difficulties. "Promenade" to a better tomorrow!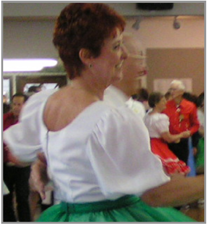 Lee and Barbi Ashwill
Lee and Barbi Ashwill have been square dancing since 1978 and round dancing since 1980. They progressed through the offices of their local club, the Independence Wagon Wheelers before serving as Co-Chairman of the 1989 Oregon State Summer Festival and serving as the Chairman of the Oregon State 2002 Summer Festival.
Lee and Barbi have each served as 2nd Vice President, 1st Vice President, President and Immediate Past President of the Oregon Federation of Square and Round Dance Clubs. They have received Oregon's two highest Square Dance honors; the Randall Award and being appointed as Oregon Goodwill Ambassadors.
Lee and Barbi enjoyed being members of Bud Parrott's round dance exhibition group, The Round Connection. When they were asked to become the Assistant General Chairman of the 43rd National Square Dance Convention', they soon discovered the amount of time they would spend traveling to attend meetings and to help promote the 43rd NSDC would not allow enough time for them to practice with the Round Connection, so they resigned from this exhibition group.. They felt it was not fair to the round dance group to try to continue performing when they had to miss so many practices.
In 2005 Lee and Barbi were the General Chairman of the 54th NSDC. They have served as Treasurer and Vice President of the National Executive Committee and are currently serving as President of the National Executive Committee. They are Advisors to the 61st NSDC to be held in Spokane, WA in 2012 and are assisting Kansas City, MO in putting together a bid to be presented at the 60th NSDC, here in Detroit, MI.
Lee and Barbi have been married for 34 years. Between them they have four children (one son and three daughters) and 13 grandchildren. Lee was a personnel officer for the Oregon Army National Guard for 34 years and retired with over 40 years of Military service. Barbi worked for a law firm for 29 years, but left when Lee retired so she could travel with him.
They are both active in volunteering at the Salem, OR hospital and with the Salem Hospital Auxiliary. Barbi just completed a two-year term as President of the Salem Hospital Auxiliary and is currently serving as Chairman of the Ways and Means Committee. Lee is currently serving as Assistant Treasurer.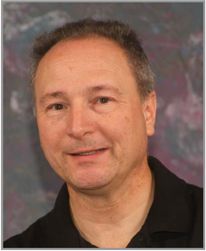 Ken Ritucci
Ken Ritucci began his calling career in 1975. Ken has a Bachelors Degree in Secondary Education, English and also received a Masters degree in Theology in 2006 as well as a Post Masters Degree in Theology in 2007.
Ken has taught beginner square dance classes since 1975 as well as workshops in all programs from Mainstream to C3A.
Since 1983, Ken has been instructing callers how to learn the profession of calling. Ken is an Accredited CALLERLAB Caller-Coach, receiving his accreditation in 1991. He owns and operates his own Callers Schools, The Northeast Callers School held each October in Manchester, NH. and The NorCal Callers School held each August in San Jose, CA. In 2011 ken has started a new school, The Jubilee Callers School in Fultondale, AL.
Ken is a member of CALLERLAB and is a member of the Board of Governors. Ken is currently the Chairman of the Plus Committee.
Ken calls through the C3A Level and has traveled all over the United States, Canada and Europe calling for clubs and festivals. He continues to get recognized as a leader in the activity and a trainer of callers. Ken has trained literally hundreds of callers to call in our activity.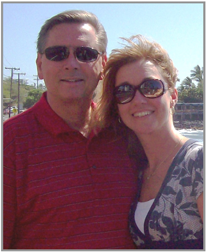 Jack & Sherry Pladdys
Jack began calling in 1982 while serving as a member of the US Air Force. During an assignment at Kadena AB, Okinawa, Japan, he launched his calling career in his off duty time with two local clubs. Upon moving to Dayton, Ohio in 1983, Jack called regularly for an Advanced and three Plus clubs. It was in Ohio that Jack had the fortune of meeting Chuck & Bobbie Myers. Chuck became Jack's "mentor" and helped him learn the craft of calling not only from the technical aspect but also from the importance of being a positive influence and striving to better the activity as a whole. Jack attributes his success and accomplishments 100% to the role modeling and teachings of Chuck & Bobbie.
Jack moved to Utah in 1989 where he again worked regularly for an Advanced and three Plus clubs. Jack retired from the Air Force in 1992 and relocated to Ohio. He and Sherry were married July 14, 1995. Together they spend the week managing a very busy home program calling and teaching for A-Sharps, the Frontier Squares, the Henry Ford Squares, the Kitty Hawk Squares, the Skirts & Shirts, the Unicorners, the Venus & Mars Square Dance Club, and the Whirlaways. In addition, they staff several weekends and travel regularly in the eastern half of the United States. He has taught beginner lesson classes every year since he started calling in 1982. He is currently teaching four beginner classes, an A2 class, and a C1 class. Jack believes the existence of Square Dancing is solely dependant upon all callers staying passionate about the craft and activity and dedicated to always teaching new dancers every year.
Jack works as the Logistics Manager for Pioneer Automotive Technologies of Springboro, Ohio. Collectively, Jack & Sherry have six children and nine grandchildren stretched out from Ohio to Florida to Arkansas, Texas, and Oklahoma.
Jack has traveled and called extensively throughout the United States, Canada, Japan, the Middle East and Europe. He has been on staff of the World Convention in Austria, the Hawaiian State Convention, the International Singles Convention in Canada, Fontana resort in North Carolina, English Mountain resort in Tennessee, and is currently on staff at Pride Resort in North Carolina. Jack and Sherry also call for and administrate several weekends and festivals yearly.
Jack recorded with Chicago Country Records. He is a member of the Miami Valley Callers Association, the Cincinnati Callers Association, and CALLERLAB. He has served terms as President of the Miami Valley Callers Association and the Northern Utah Callers Council. Jack has worked on education panels at CALLERLAB and National Conventions and has conducted many caller training seminars and clinics. He recently joined the Grand Square, Inc. Caller Education staff and aspires to obtain his caller coaching accreditation through CALLERLAB.
Jack and Sherry reside in the small community of Indian Springs nestled between Hamilton and Middletown, Ohio just off Ohio State Route 4. Jack calls and very much enjoys teaching Basic through C1 Square Dancing. He also excels at presenting easy teach squares, lines for private "one-niter" parties.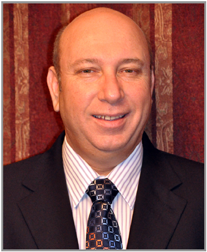 Jet Roberts
Jet Roberts started calling in 1971 at the young age of eight years old. Three years later he was calling for three local clubs in the Sacramento, California area. He always dreamed of making calling his full time occupation and by age 19 he was established as a full time caller on the west coast.
To date Jet has been featured in all the western states & has traveled as far east as New York & into the New England states. Since 1993 Jet has been featured in other countries such as Sweden, Denmark, Holland, United Kingdom, Germany, Finland, and New Zealand & spent two years calling full time in Perth, Australia.
Jet calls levels from basic through A-2 & from the age of 10 he has never missed a year of teaching a beginner's class & sometimes as many as three in a season. Jet believes that all callers should teach beginner classes as without them the activity will continue to decline.
During the national convention in Detroit, MI. in 2011 Jet became the newest staff caller on Rhythm Records which is considered one of the top record labels of all time with an all-star staff. Check out their web site to get your exclusive membership & get some of yesterday & today's finest square dance music on the market. http://www.rhythmrecords.biz/
In the summer of 2004 Jet married Sylvia Bjork from Sweden. They had a beautiful wedding in her hometown of Orebro, Sweden with many friends from Europe & the USA in attendance. Jet & Sylvia are currently living in Antelope, California near Sacramento. Jet is the proud father of two girls, Lacey born in 1988 & Lindsey in 1991 from a previous marriage. On February 22, 2009 Sylvia gave birth to their daughter Stella.
Jet is known for his smooth & interesting choreography & his singing calls are always a pleasure to dance & listen to. If Jet Roberts comes to your area, don't miss the opportunity to dance in a fun filled & lively atmosphere.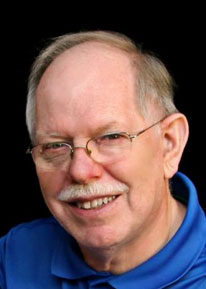 Gene Turner
Caller and Chairman of Grand Square – United Kingdom
Gene learned to dance Mainstream in 1986. Learned to dance Plus in 1988 and Advanced A1 &A2 in 1991. Briefly danced the C1 program in 1997. He started teaching/calling Basic & Mainstream in 1990. Started teaching/calling the Advanced program about 1991 or 1992.
Gene (and Cliff Anderton) started Harmony Squares in 1997 operating a Plus group on one night and Basic/Mainstream group another night. Gene started Red Centre Squares (Alice Springs, Australia) in 2001.
Gene has been involved with caller training though the Northern Area Regional Callers Assembly (NARCA) of the Square Dance Callers Club of Great Britain (SDCCGB) since the early 90's and is currently chairman of NARCA. He attended CALLERLAB Mini-Lab in Germany in 2002, the CALLERLAB convention in San Antonio in 2003. Gene has attended GSI-UK callers school in 2007, 2009 and 2014 as well as the SDCCGB callers school in 2011 coached by Jerry Story and Paul Bristow.
Gene has been on the GSI-UK organizing committee since 2004. He assisted in several Training events hosted by GSI-UK and SDCCGB since then and is currently leading his team in organizing a 3-day training event scheduled for March 2019. Gene has called throughout England, Scotland, Guernsey, Australia as well as in Germany, Belgium, and the USA. He was a caller at the 50th and 60th Anniversaries of the British Association of American Square Dance Clubs (BAASDC) and the SDCCGB as well as being a staff caller at GSI-UK 2007, 2009 and 2014 Festivals.
His primary reason for being so deeply involved with so many organizations is so that he can help mentor callers and promote caller training throughout the activity. Gene gets so much from square dancing and calling that he wants to help spread the wealth of knowledge and fun by promoting the activity and helping to provide training to other callers. Gene believes that as they learn, he learns and everyone involved becomes better callers and consequently provide a better dancer experience and more fun, helping to promote the activity of square dancing.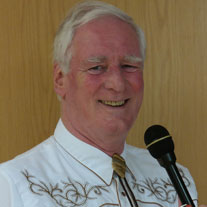 Cliff Anderton
Caller and Vice Chairman of Grand Square – United Kingdom
Cliff graduated as a Mainstream dancer in 1984 and has spent the years since wishing that he had discovered the activity much sooner. Within little more than a year he was dancing Plus and performing the occasional singing call as a guest at local clubs. He continued to learn dancing through the A1 and A2 Programs and to develop his calling to the point where he became confident enough to call club nights, teach new dancers and eventually call Saturday night dances.
Cliff was the founder caller for Humberside Steppers, a club which is about to celebrate its 30th Birthday, and has been on the calling roster for several other Yorkshire clubs and further afield. His principal calling commitments these days are as calling partner at Harmony Squares along with Gene Turner and as caller for White Rose Squares, helping students and more experienced dancers to enjoy the Basic, Mainstream and Plus programs. Cliff and Gene are ably supported ay Harmony Squares by Jackie and Sandra (who actually run the club, though they let the guys think it is them). Cliff and Gene have recently made their first tentative steps as recording artistes (though Cliff is slightly ahead, having made 1/7th of a record while Gene wasn't looking as he was away in Australia).
A member of the Square Dance Callers Club of Great Britain (SDCCGB), Cliff was elected to its Council three years ago and is currently in his second year as its Membership Officer. He is also a member of the Northern Area Regional Callers Assembly, currently on its committee as Treasurer and has been involved with the Committee of Grand Square – United Kingdom for many years. All of these positions are part of Cliff's attempts to give back to Square Dancing some of the fun he has derived from it and he tries to encourage, mentor and train other callers in the hope that they will experience some of that same enjoyment.
Cliff has called in Germany, the USA and Guernsey as well as in many areas of the mainland UK and was a caller at the 50th and 60th Anniversaries of the British Association of American Square Dance Clubs (BAASDC) and SDCCGB, as well as being a staff caller at Grand Square – UK Festivals in 2007. 2009 and 2014.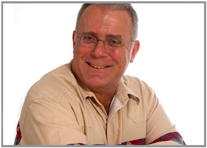 Walt Burr
Walt started Square dancing in 1976 when he joined a Mainstream class offered by the International Squares in Kaiserslautern, Germany. His calling career began only a few years later in 1980 when the Air Force stationed him back home in Macon, Georgia. For the next four years Walt and his mentor travelled around Georgia & Florida, but soon enough duty was calling again and Walt was going to various places with the military. This time also as a square dance caller.
He travelled the world and called in 26 states and 10 overseas countries, including Germany, Sweden, France, Czech Republic, Great Britain, Austria, Belgium, Netherlands, Japan and Canada. During this time of travelling he learned a lot about customs and traditions in each country and he also saw the different ways of dealing with our hobby in the changing environment.
In 1995 Walt retired from the US military after 24 years. His last station was RAF Lakenheath in Great Britain. He stayed there working as a civilian and calling for several clubs in the following 15 years. In July 2010 he retired completely and moved to Germany.
Currently Walt calls Basic – A2 for his own and other clubs in the Munich area. He is on the staff of A&S records and released two singing calls. "Young at Heart"(1992), "The Will to Love"(1997) and is working a his third "On my way" due to be released later this year
Walt played a key role in starting the GSI-UK team and served as team leader from 2003 to 2009, leading the team through two very successful callers schools and festivals. In 2009 Walt became the GSI-Europe representative and he continues to hold that position.
He and his long time partner Juli were married in April 2011 and spend their very limited spare time with round dancing and travelling around Europe.
Walt is an accredited member of ECTA and Callerlab, and he's working on becoming a Callerlab Accredited Caller Coach.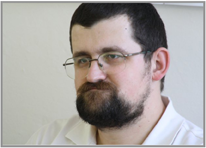 Thomas Machalik
I was born in 1977 and it took me almost twenty years to start calling. I am currently calling Basic (or any of its parts) through Advanced 2. I call for Crazy Dancers (Prague, Czech Republic) and Wild Bunch (Waldershof, Germany) on more or less regular basis and less frequently for some other clubs as well (we are even exploring the possibilities of square dancing over Skype!). Apart from calling, I try to be active in CSCTA, ECTA, CALLERLAB and GCA. I am serving as the CSCTA President and Square Dance Coordinator.
I believe in caller cooperation, in exchanges of ideas and in providing variety to our dancers so I publish my ideas and articles to share with others. Electronic Tips for Callers is a web-based series of my articles (in English) related to Square Dance calling. Caller's Info is a magazine (in Czech) published by CSCTA for its members. I also try to share my hitherto knowledge and experience with those who are interested in learning something new. I conduct caller seminars and I also published several dozens of articles and a book named I Want To Be a Caller! for beginner callers (unfortunately, it is currently available in Czech only).
I work as a translator: I mostly localize software from English to Czech or Slovak. If time permits, I like to play guitar and bass guitar (and I often participate in afterparties at Special Dances).
For more information as well as some links see my website at http://doug.square.cz/. I am looking forward to our cooperation within GSI in order to make the world of Square Dance even better!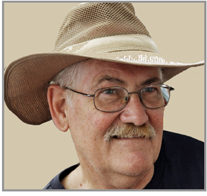 Lars Olafsson
Lars got in touch with Square Dance in the late 80's and started to dance in 1988. He is known as the tall calm swede, but if you get to know Lars you will find there is a very entertaining side of him and he has a great sense of humor.
Lars met Hanna at the end of the 90's and soon they become inseparable as he very much impressed upon her by being the "mensch" that he is (true human being) and being a great sport, always ready to help and support others.
Lars took up calling 2008 and is developing his own style of calling which is very suitable for calling at club levels and that is where his calling-heart is.
Being the computer-guy that Lars is, he has created many home pages, among others the home page of SAASDC (Swedish Association of Square Dance Clubs), SACT (Swedish Association of Callers and Teachers), the home page of Energy Squares which is the home club of Lars— and many others. He helps and teaches people to create and update their home pages.
Lars was also a member of board of SAASDC for many years and the president of Energy Squares before he became a caller.
Lars got awarded by SAASDC in 2009 for unselfishly devoting his time and his talent to the Square Dance activity.
Lars is half of the Swedish GSI Team, of which the other half is Hanna Tenenbaum.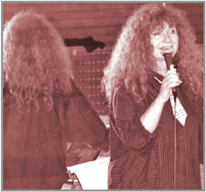 Hanna Tenenbaum
Hanna started dancing 1995 in Malmoe Sweden. She was then, shortly after graduation, pursued by a caller in her club to start calling when he heard her sing on her way to the ladies room. She started calling 1997.
Hanna has been deeply involved in Square Dance since then. She has been a board member of SACT, the Swedish Caller Association and is also a member of Callerlab and currently a member of the ARC committee (Application Review Committee ).
Hanna is also arranging local caller schools and training and has helped many callers to develop themselves to become "good" callers. She treats every caller student as her "chick" and she is truly interested in their development.
Her style of calling and her warm voice have made her popular amongst many dancers. She is also known as a caller that cares for every dancer. As a teacher she is greatly open hearted to every students needs and problems, her way of handling difficult situations is honorable not to mention her pedagogical style of teaching.
Hanna has been calling in Sweden, Norway, Poland, Denmark, Austria, Germany and America.
It is Hanna's dream to start Square Dance in Poland.
Hanna got awarded by SAASDC in 2009 for unselfishly devoting her time and her talent to the Square Dance activity and especially for her work as caller and caller coach for her club.
Hanna is also a member of the GSI-team in Europe, and representative for GSI-Sweden, together with Lars Olofsson who met her in late 90 and fell for her warm personality and charisma.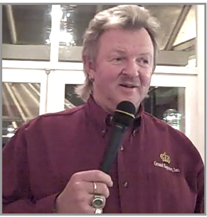 Jerry Jestin
While growing up in Canada, Jerry was around square dancing a lot. His parents have been dancing since the early 50's. Early in his life, Jerry played the piano and sang in many amateur shows. He and his sister Loretta learned to square dance from Frank Dorward. Frank knew Jerry could sing so he handed a record to Jerry and told him to practice. Jerry learned the singing call and has been calling ever since. His first dance was in 1967.
Jerry has always liked performing. Sometimes he would call duets with his sister. After a time Jerry felt that he had gone as far as he could in Canada as a full time caller. He began looking south, across the border. In 1979, Jerry relocated to Texas, attending Texas A&M University while continuing to expand his calling career. He majored in Physical Education and Health.
In 1980, while calling and attending school, he met and married Janice Lee Graham, whose father was a local caller in San Antonio. Jerry and Janice moved from College Station, Texas to the Dallas/Ft.Worth area where his home program was expanded to cover various levels of square and round dancing. Jerry transferred to the University of Texas at Arlington, to continue his education on a part time basis, where he found time to get some voice training.
In 1984, Jerry and Janice became the Resident Square and Round Dance and Clogging instructors at a RV park in Yuma, Arizona. By 1985, they were working at two parks, offering a full program for all levels of the various dances. From 1990-1994, Jerry and Janice worked as the resident Caller/Cuer/Directors during the summers at Lionshead Resort outside of West Yellowstone, Montana. During the summer months they taught squares, rounds, and clogging and coordinated the hiring of guest callers and cuers. When Jerry is not in Yuma, he travels to other areas in the USA, Europe, Australia, New Zealand and Canada calling festivals and dances. In the spring and fall, he also worked on the family grain farm in Alberta until his father retired.
Starting in the fall of 2007 Jerry went back to Texas A & M University to finish his degree while calling on the weekends. He continues calling in Yuma AZ from Jan. thru Mar. and back to University in the fall until he graduated in Dec. 2010 with his degree.
In 2010 Jerry also completed and passed CALLERLAB Caller Coach Certification. Jerry has been on staff at many Callers Schools and Seminars across the world.
Jerry has worked for several Square Dance record labels. First he recorded for Circle D Records, releasing "Come Monday". Next, while recording for Riverboat Records, he released two patter records and two singing calls, "Listen to the Music" and "Pictures". Next Jerry recorded for Jo-Pat/ESP Records. His releases included "Bummin Around", "I Don't Hurt Anymore", "It Ain't Necessarily So", "I'll Come A Runnin' to You", "Next Thing Smokin'", "That's My Story", "Honky Tonk Attitude", "Tall, Tall Trees", "Seminole Wind", "Shindig in the Barn", "Just Another Polka", and "Hightech Redneck". He has also made special appearances on Sting Records – "Cheatin' Heart" and on Global Records – "Come Monday" and "Bye, Bye Love".
Upon the closing of the JoPat Record label in January of 2003, Jerry began recording full time for Global Records. He has many hits with Global including, "I Saw Her Standing There", "Follow Me", "It's Cool To Be A Fool", "Good Friends", and "Lookin Out My Back Door". As times changed in the recording industry Global Records stopped producing music.
Jerry then started recording for TNT records releasing "King Of The Road", "Don't It Make My Brown Eyes Blue", and "Have You Ever Seen The Rain". After that Jerry joined Gramophone Productions from Germany as a staff caller. His releases include "It Just Comes Natural", If You're Going Thru Hell', "Deeper Than The Holler", "Love Is On A Roll", and "Hi Diddle Diddle", "Beer For My Horses", "Highway To Hell", Just A Memory", Make Her Fall In Love Song", and "Hey There Delilah". For listening and dancing, he also has various levels of dance cd's available.
Jerry and Janice have composed many round dances: "Way Too Sassy", "Memories Are Made of This", "Falling ", "Sugar Town", "Your Selfish Heart", "More", "Somebody Like You", "Steve McQueen", "Ivory Tower", "When You Dance", "Spanish Eyes", "Wish I Didn't Know", "Steve McQueen", "When You Dance", "Catch A Falling Star", "Kits Waltz", "Waltzing By Piano", "If You Think You've Got Trouble", "Twang", "Soul Sister", "Rocking Round The Christmas Tree", "It Won't Seem Like Christmas Without You", and "Bit By Bit".
Jerry and Janice are members of CALLERLAB and are licensed with BMI and ASCAP. Jerry is currently a board member of CALLERLAB.
Jerry is well-known for his creative choreography, high-energy presentation, and use of a wide variety of music.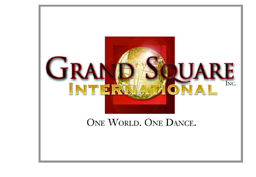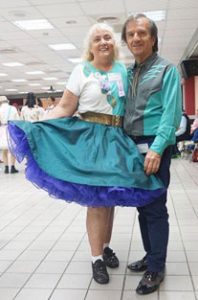 Corinne & Vucko Maric
Corinne has been square dancing since 1971. She started teaching round dancing in 1977 and started calling in 1976.
She and her husband Vucko met during an Australian square dance convention in 2009. They retired to Serbia to and now dance around Europe.
Corinne has cued in Kaliningrad Russia and Tokyo Japan.
Corinne says; we have been teaching square dancing at a little school in Serbia called Gacak with 11 kids.
Vucko & I also have a group of 6 kids from the school who have learned Mainstream dancing in our home on Sundays. We have done round and square dance demos in Greece and Serbia. Adult classes will start in October this year and we also have interest from people in Novi Sad in the north of Serbia and the kids will start plus in October.